Welcome!
Welcome to the Connecticut Board of Approved Baseball Umpires
Hartford Chapter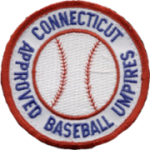 The Hartford Chapter of the Connecticut Board of Approved Baseball Umpires, commonly known as the "Hartford Board", is an organization dedicated to providing baseball umpiring services to 78 public, parochial and private high schools and middle schools in 34 towns in the greater central Connecticut area for their respective Freshman, Junior Varsity, and Varsity programs. 
In addition to the spring high school season, the Hartford Board provides umpiring services to numerous non-scholastic leagues throughout the spring, summer and fall, including:  American Legion baseball Zones 1 and 3 (Senior, Junior and Prep divisions);  Connecticut Collegiate Baseball League;  Greater Hartford Twilight Baseball League;  Connecticut Twilight League;  Connecticut North Men's Senior Baseball League;  Pete Kokinis Baseball League;  Greater Hartford Independent Baseball League;  Glastonbury Junior and Senior Leagues;  Nutmeg State Games;  along with a number of independent teams, most notably Team Connecticut Baseball (TCB), as well as other travel and AAU teams, and numerous tournaments held throughout the year, including Super East Baseball.
Founded in 1924, our 200+ member organization has grown to be the largest baseball umpiring board in the state of Connecticut.  Hartford Board members reside in over 35 different cities and towns in Connecticut.  Many of our members are qualified to umpire baseball games played under the rules of the National Federation of High Schools, the National Collegiate Athletic Association and Major League Baseball.
Membership is open to prospective umpires and any qualified umpire residing in the New England area who meets our requirements. 
For information please complete this form:
Or contact:
Immediate Past President: Barry Chasen
Secretary-Treasurer: Jim Kayan
30 Pine Hill Road                                                                                                     Avon, CT  06001                                                                                                    (860) 678-9648